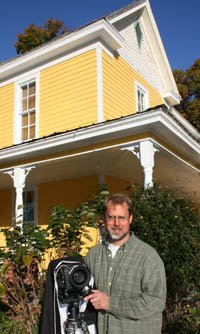 My goal as a landscape photographer is to bring the viewer into the scene with me. I accomplish this by shooting with large and medium format cameras using transparency film. My method is challenging (working with these cameras is completely manual, the film I use needs to be exposed perfectly and they are heavy to carry around), satisfying (it is very rewarding to placing a 4x5 inch, properly exposed, positive piece of film on a light table) and accurate (I do not manipulate my images, the transparency film captures the scene exactly as I see it and I am able to match my print to the film). I often print my images large; the film I shoot and cameras I use allow me to do this without affecting the quality. I then frame them with high quality moldings. I make some of the frames myself from antique heart pine.
I've been published in many national and regional magazines and have done over 60 exhibitions and shows in the last ten years.
North Carolina is an amazing state. It has a little bit of everything for the photographer. My work is concentrated in the center of the state, where I live, and in the mountains. I hope that my photos will help the viewer experience the natural beauty and pastoral quality of this state.